Home
Naples Fishing Charters
Naples, FL
I would like to invite everyone to come to Naples and Marco Island and fish with Rz's Fishing Extremes and Myself Capt. Roan z.
When I guide these waters my clients should expect to have a great time and truly rewarding experience. Catching fish is a part of that. The species we typically fish for are the Big Three: SNOOK, TARPON, and REDFISH. That's not to say that is all we will catch, remember we also have Bass fishing available here. On a typical day we could catch a host of species including: Sea Trout, Jack Crevalle, Ladyfish, Snapper,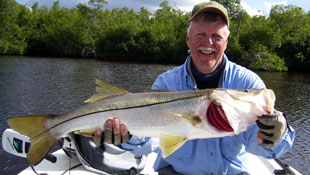 Sheepshead, Triple Tail, Spanish mackerel, and a few other unmentioned species. The lure of this area is you never know what is going to happen around the next bend in the Mangroves. It could be a 100 pound Tarpon or a 10 inch Jack Personally, I wish it were always the Tarpon but quite often it's the Jack.
The Climate in South West Florida Makes it Possible for us to Catch Fish year Round!
THE BEST all around fishing in Naples starts in Mid March and continues through Mid November barring any inclement weather or Hurricanes. The good news is; I do not make clients fish in adverse conditions or if I think the fishing is less than adequate for my clients. I tell it like it is as you can see from my fishing reports. If I go somewhere and a guide takes me for a boat ride I will never come back. I am committed to making your experience as memorable as possible and that is in a good way. Which ever way you would like to fish: Bait, Spin/Plug, or Fly We can make it happen for you. For a month to Month Breakdown click on Fishing Report.
Captain Roan zumFelde
A NATIVE to the backcountry waters of Naples and Marco has given Capt. Roan z an intricate knowledge of the waters and the species that live in and on these waters. Capt. Roan being an FFF Certified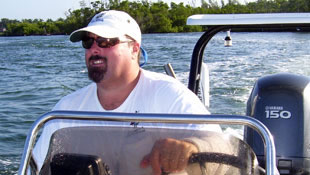 Fly Casting Instructor and Master Fly Tier makes it possible for him to specialize in Fly Fishing Charters. Lending his knowledge and background to the fishing experience makes it possible for the seasoned veteran to the first timer to experience a trip of their lifetime. Whether fishing for Snook, Tarpon, or Redfish we can help you achieve your first or your personal best catch ever. And if Fishing for Largemouth Bass is more your taste; Roan can take you into the Heart of the Everglades and fish fly or plug tackle for these great fish.
I Guide Clients out of the Naples and Marco Island areas fishing the near shore and back country waters of Naples, Marco and the start of the Ten Thousand Islands, and the Everglades Canals for Bass and Cichlids.
Contact Captain Roan zumFelde today to go on a Naples Fishing Charter !
239-269-4426

US Coast Guard Licensed Captain | Certified FFF Casting Instructor | FL Guides Association Member
Powered by: NetZebra