Home »Naples Fishing Testimonials
Customers
Rz's Fishing Extremes, Naples, FL
One of the greatest things about being a guide is being able to meet new people, and share the excitement of fishing with them. There is no better way to get to know someone and become friends, as many of my customers are.
---
Bernie Loewenthal
Had my most interesting, and rigorous fishing experience today thanks to a world class guide, Captain Roan Zumfelde, here in Naples.
Roan called yesterday, said, we're gonna fish for false Albacore tomorrow. I heard about them, red about them, but unless you experience their POWER, you really don't understand. My personal opinion is that they are bonefish X 5! Anyhow, Roan got us into them a short distance offshore. My partner Bob, & I hooked up many times, Roan put us right on them. Then the fun started! Zoom----150 yards of backing gone in a millisecond! The fight was incredible. I "detached" a few right next to the boat to save roan the trouble of dehooking, although rumor has it I screwed up?? Just wanted to share a great experience here in Naples. Best, Bernie
---
CJ and Becky Oliver
CJ. and Becky came down a fished with me in the Naples and Marco Backcountry this summer for a few days and I for one had a great time. The two of them had the most enthusiasm for the sport of fly fishing then I have seen in a long time. They tried everything from tight Creek Fishing for Tarpon to Night Fishing the lights. On their own they fished the beaches and landed some nice Snook and Jacks of all sizes. Already booked for next year I am eagerly anticipating their arrival and have plans on finding some new and unusual creatures to capture on the Fly Rod. Thanks for the fishing fun and will see you next year for some Mega Sized Tarpon Fishing Get Ready you two!!
Hi Captain Roan,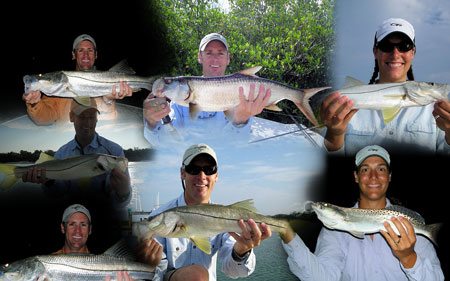 Just wanted to drop you a quick note to say thanks for the great trips we had with you. It was hands down our best fishing trip we've ever been on and we're already looking into making plans to come back next year. We really appreciate how hard you worked to get us on fish and make sure we both enjoyed our time, which we did, thoroughly.
Here are a few pictures from our outings with you, as for that video it could still be a little while. We'll try to get that figured out this summer.
Thanks again,
CJ Oliver
Senior Environmental Health Specialist
City of Aspen Environmental Health Department
---
Roger
Picture of My client and friend Roger with one of the many Dolphin he caught on his trip to Mexico. Roger is one of the most accomplished Fly fisherman that I have had the great fortune to meet and fish with the last couple of years. I truly regard him as a great friend and fly fisher that I hope to be able to fish with for many more years.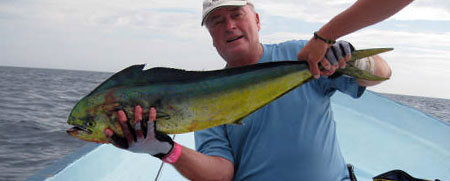 Roan and I launched the Beavertail at 6:30 AM at the east end of the Jolly Bridge. We headed north on the Big Marco River. The Tarpon were rolling in the river and were tempting but Roan said they wouldn't eat so we left them to the two boats that were chasing them around.
Roan asked if I wanted to target Tarpon or Redfish and Snook. He offered that the Snook were in heavy and he knew where there were hundreds of them. Obviously, there wasn't a question.
We started off with a nice 40" Snook, on the beach. Sorry Roan, missed her by a couple of feet. During the next 2 1/2 hours we found hundreds of males 22" to 24" waiting for the females to arrive for spawning. We targeted the large females. We saw about 20 fish over 35". Unfortunately, when I made a decent cast, a smaller male would steal the fly. When I would get bored and target a larger 24" male, the male ate and frayed the 25 lb. bite tippet we were using just as a large female would show up on the beach. . I lost track of the Snook, Jacks, and Snappers we caught. All of the fish were sight fished but frequently another fish would beat the targeted fish to the fly. We never caught a cow although Roan presented me with a number of opportunities.
I learned that with large Snook in shallow, clear water, you only get one chance. The fly has to be placed right in front of the fish and immediately stripped to generate an instant strike. According to Roan, Dave Tepper does this better than anyone. If they have time to think about it they get tennative and a smaller fish will beat them to the fly or they will follow for a while and ultimately turn away unless they are in a strong eating pattern. If the first cast is not on target they will sense that something is wrong even if they don't see the fly or flyline or leader. They didn't get to be large Snook without being very cautious. Snook don't run like a bonefish or fight as hard as a Jack Cravalle. The true joy in catching a large snook is the knowledge that you did just about everything right in your presentation and hook set. Tarpon may be the kings of the backwater but Snook are the Queens.
These kind of days are hard to come by and I hope I haven't used up all my good luck for the season.
Tight lines,
Roger
---
My friend & guide Roan ZumFelde wanted me to meet another flyfisherman so we could split the cost his cost. We went out yesterday afternoon in very under very poor conditions. A cold front had passed 24 hours ago & Roan never likes to fish until three days after the frontal passage. It was also VERY windy 15-25 mph. Roan said that it was up to me whether we should go & that we probably would turn around pretty soon, & there would be no charge.
As expected the fishing was very slow, but we stayed out. My new buddy Bob, who has fished this area since 1965, with Roan's father & uncle, caught one small snook after an hour. When my turn came I caught maybe 5-6 small snook, didn't think much about it. We moved on to another area, no fish, wind whipping. Roan & Bob sugge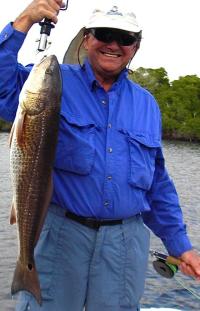 sted we move to the "other bank" where the wind was blowing in. I cast maybe 20 times, nothing. I started reeling my line in, the decision was made to call it a day. Roan said, try one last cast. I did, & boom, this huge wide mouth came up from the bottom and inhaled my fly. It was a very large Redfish (for this area) according to Roan. After what seemed like an "hour", probably 10 minutes, Roan netted the fish. I was very pleased, the day was not a washout.
On the way back, we were a bit late, Roan asked if we would mind stopping briefly at another spot. We went thru incredibly narrow mangrove channels to a hole I suspect only Roan knows. He said, even though it was late in the season, there might be a tarpon around, & if I could catch one I would have a grand slam---a snook, a redfish, & a tarpon. As soon as we got to the hole we saw two tarpon roll. Roan said to wait until they came up again & then cast quickly. Well, we waited & waited, no tarpon came up. So I started casting toward one side of the hole, & on the second cast, to everyone.s amazement, especially mine, I had a tarpon on! It jumped three times--gorgeous fish. Roan said don't forget to "bow" when it jumps. Well, evidently at the first jump I forgot, & the second jump, I am told, that "I" bowed, but the rod didn't!! Guess I was paying homage to the beautiful fish. The fish was landed using a Boga grip rather than a net because of all the slime and injury to the skin of the tarpon a net would cause. Obviously I felt great--didn't even know what a grand slam was an hour before, and had one. Talk about sheer luck!! Bob, said that it took him 30 years, fishing frequently, to get a slam.
It certainly was an unexpected fun afternoon.
Bernie
---
Contact Captain Roan zumFelde today to go on a Naples Fishing Charter !
239-269-4426
US Coast Guard Licensed Captain | Certified FFF Casting Instructor | FL Guides Association Member