Home » Fly Fishing
Naples Fly Fishing - My Specialty
Naples and Marco Island, FL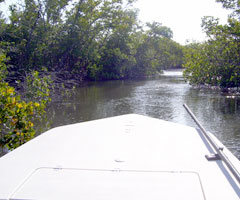 Fishing the waters and area from nearly birth has given me knowledge and almost a sixth sense of the fish that we will be looking to catch. Growing up fishing and hunting the Everglades with my father has given me an education that I hope partly to pass on to all my fishing clients. Guiding and teaching Fly Fishing to persons young and old is what I was born to do.
My fly fishing career started at the ripe old Age of twelve and I haven't put the fly rod away since. I have fished for a wide array of species all over the world and have recorded some extremely remarkable catches from Billfish to Brook trout both on fly and light tackle. I need to thank some of my mentors in fishing firstly my Father for making all of these things possible and some others that instructed me along the way. Jack Bass Allen for taking me bass fishing on Lake Okeechobee when I was knee high to a tadpole and making me use the fly rod. Jim Grace for teaching me how to fish Snook on Fly and starting me off with my first Graphite Fly Rod and introducing me to some of the worlds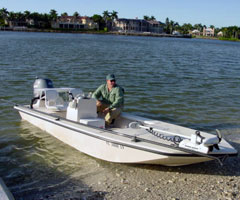 best Fly Fisherman and instructors. Lefty and Chico for my formal instruction back in the early 80's at Remuda Ranch and to this day whenever we get together at one of the shows. And last but not least the Fly tiers that taught me how to tie feathers on a hook to catch fish: Don Ingram, Jack Montague, Dave Whitlock, Jim Hopkins and Jack Allen.
Thank You All!!!
The Boat I guide Fly Fishers out of makes it possible for me to take my anglers into the Shallow waters of the Backcountry Creeks and Bays. Ultra Stable and designed to run in less than 4 inches and float in 5 inches makes it possible to fish were most never dare to go.
For Fly Tackle: Most of the fishing in our area can be accomplished with a 7, 8 or 9 weight Fly Rod with a Weight Forward Floating Line.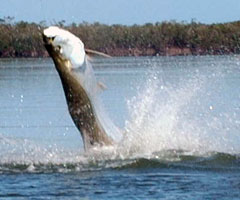 Unless you are looking to fish to the Extremes. On one end of the spectrum you have Giant Tarpon. Fishing for these bruisers will require you to use at least an 11 weight or 12 weight Fly Rod and Reel spooled with a minimum of 200 yards of 30lb. backing and corresponding Fly Line in either Floating, Intermediate, or Sink Tip.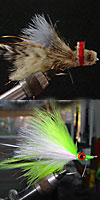 The other side of the Extreme is when we use super light fly gear. If you want to try for Snook, Redfish, and Baby Tarpon on light Fly Rods then I recommend bringing a 4 weight or 5 weight with you.
If travel plans dictate that you cannot bring your own gear. Not to Worry. I can supply everything from an 2 weight to a 15 weight if need be. Team this up with my own hand tied Fluorocarbon Leaders and one of my many Contract Fly Patterns and we will be in Business.
I love to talk and teach Fly Fishing whether it be Casting, Tying or Fishing. Please feel free to contact me with any questions you have about the area or the tackle you will need when you arrive here. If you would like to purchase Fly Tackle for your trip and have it waiting on you. You can contact Indian Pass Outfitters and they can set you up with all the gear you will need.

Contact Captain Roan zumFelde today to go on a Naples Fishing Charter !
239-269-4426
US Coast Guard Licensed Captain | Certified FFF Casting Instructor | FL Guides Association Member